Posted on October 26th, 2010 by Dhane Blue
I was sent to the Philippines in 1972 by the U.S. Navy — to a small communications station located near a village called San Miguel, about an hour's drive north along the eastern coast from the main naval base at Subic. This was my first time to leave the U.S.A. and the experience left a lasting impression upon me. The station at San Miguel was right on the coast and we had our own private beach. It may not have looked exactly like the one above but was very similar. I used to take boat rides to an island just offshore and remember swimming in the open ocean — again, for the first time in my life.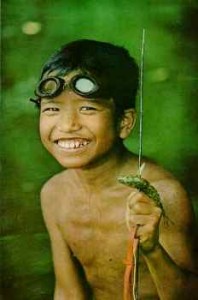 I watched a boy who was obviously at home in the ocean spearing fish while I worried about sharks. The station also had a swimming pool, movie theater, our own supermarket and carefully groomed grounds with quarters for the married sailors. The atmosphere was more like living on a tropical golf resort than a military outpost although when we did go to work it was in a concrete block house in the middle of the surrounding rice fields. At the time, the Philippines was still under Marcos' military rule so there was a curfew. It didn't stop us from visiting the bars in the villages and dancing with the bar girls to music blaring from the local juke boxes. Many of my friends would bring their girl friends back to the dormitory rooms — we shared rooms with two sailors in each one. Each two air-conditioned rooms also shared one common bath. It wasn't bad for first-time duty. We also had Philippino house boys who shined our shoes, laundered and ironed our uniforms, and cleaned our rooms. There wasn't much left to do beside work in the comms room when on duty and drink San Miguel beer when off duty. I remember my roommate at the time — named Frank. The last I heard he was married to a Japanese woman and lived/worked in a bar somehwere in Tokyo. He certainly knew how to drink and was usually 'busy' all night long with the girls he brought back to our room. On some nights, I didn't get much sleep myself, either.
I especially remember my 21st birthday. My friends rented a fishing boat and we went out to sea. We didn't catch much fish but had five cases of San Miguel beer to pass the time with. We did go swimming and my friends brought their girl friends along. A friend of mine caught a tuna fish in Subic Bay. We threw it back in the water — it was coated in diesel oil and would have been inedible. I never did get a girl friend. I was involved with the local Boy Scout troop of all things and spent a lot of time with kids on base — the sons of other sailors who had their families with them. We went to the snack bar a lot for hamburgers and french fries. For some strange reason, one of the kids introduced me to ketchup and mayonnaise mixed for those fries. It's not bad — try it some time.
I also remember my first and last experience of being at sea on a naval vessel. It was 1973 and I was on a frigate for a two month cruise out to the Red Sea and back. The military just lifts a small trailer-like comms box and stacks it on the deck of a frigate — usually between the smoke stacks. I had a good view of the ship's bridge from there. I could usually look down on most days and observe the ship's captain training his young officers. I remember him climbing all over the superstructure of the ship like a damned monkey in the zoo. Whatever else he did, he was able to maneuver that huge and long frigate around like a small yacht. I don't imagine it was a skill easily acquired. I got bad evaluation marks for my time at sea. I didn't like the twelve hours on and twelve hours off schedule for duty shared between myself and one other sailor. I was also berthed in the ship's cooks' compartment — located directly underneath the ship's 16-inch gun on the foredeck. You can just see it in the picture below. Whenever I had a night shift and was trying to sleep the next day, my bunk time often coincided with gunnery practice. The ammo room for the gun was directly underneath our sleeping berth. The loader for the gun passed directly through the middle of our compartment. Between the noise of 16-inch shells being thrown up to the gun and the gun itself traversing in circles, it was too noisy to sleep. Imagine trying to lie down in a tin shack with a tank driving around on the roof shooting off shells — get the picture?
So, being on a ship at sea wasn't something that excited me although I was a natural at it. I never got seasick, enjoyed the ship's motion and slept well when that 'damned' gun wasn't being used for practice. I would rather be a peacetime sailor — one who never works for any country's military. A year passes very quickly when you're having fun and I DID enjoy life in the Philippines. I didn't get to travel a lot around the islands or see any tourist attractions but I spent a lot of time swimming in the pool or at the station's beach. I saw at least one cyclone marching the waves into shore and remember receiving supplies on the ship at sea by helicopter. That WAS exciting! Strangely enough, my favorite memory from the year spent in San Miguel was racing go-karts on the base at Subic. I DO love speed — or the sensation of it. A go-kart provides a manageable thrill and is safe if you're careful.
It's difficult to remember much more. I do remember the flight there. They really pack in the passengers on military flights. I stayed one night in Tokyo on the way to the Philippines and that was my total experience of Japan. I haven't gone there yet and don't have any plans for a visit but the culture interests me enough to add another page to this blog if I ever visit there. I wanted to stay in the Philippines longer but missed my chance. Instead, I ended up going from there to South Korea. It was a good move, in hindsight. Although I did have good friends from the Philippines later in life — we worked together as teachers — it wasn't until 2005 in Thailand that we met. I'll leave this page as is unless some other meaningful memory pops up from my subconscious.
Filed under: Philippines and