Posted on December 24th, 2010 by Dhane Blue
Well, here it is — my obligatory post about the bicycle gear I use.  I'm not exactly a novice cyclist nor am I an experienced tourer.  I fall through the cracks somewhere between these two extremes.  I've had a lot of bicycles — including a nice mountain bike racer that I purchased in South Korea and brought with me to China the first time I arrived in Chengdu about 8 years ago.  I played with it for a couple of years, upgrading the parts, and building other bicycles at my friends' DIY shops here in the city.  We shared plenty of rides out of town to countryside restaurants but I ended up finally selling a bicycle worth about $2,000 for $200 to a Nepalese bicycle mechanic I met in Kathmandu.  After years of riding on different bicycles, I have finally opted for hard-wearing bicycles but at reasonable prices.  Here is a bit of advice from a BTwin website in France concerning the bicycle I've equipped myself with here in Chengdu.  I have also had 5 bicycles stolen while living in Chengdu so I could write about those experiences as well but I'll save that gripe for another day.
I'm looking for a really hard-wearing, tough bike for long-distance rides or journeys (answer from BTwin website:)
Is it possible to ride a long-distance hiking trail? Yes, with the Riverside range. These bikes are designed to be extremely tough and hard-wearing in all conditions.  Whether you regularly go for rides lasting several hours, or journeys lasting several weeks, these bikes are capable of going with you wherever you want to go.  They are not unisex and differ in terms of frame shape. Women can opt for a lowered frame for easy step-over and more freedom of movement. The bikes also have lots of gears so that you can ride at your pace on any gradient.  Depending on the Riverside model, you can also opt for hydraulic brakes (more powerful), a dynamo light (powered by friction from the wheel), varying numbers of gears and plenty of other accessories you can browse on the bike product sheets.
Brakes: Magura HS 11 hydraulic brakes. : extremely powerful and durable braking system. It is very reliable, and mounted on on the v-brake bracket.
Accessories: Shimano dynamo hub, rear LED light stays on for up to 4 minutes when the bike is stationary. Stiff mudguards. Narrow aluminium pannier rack with bungee cords. SPD-compatible mixed pedals. Adjustable aluminium stand. : strong mudguards to protect the rider from being splattered. Trekking pannier rack with a 25kg load capacity. Can be used for all the luggage traditionally used when trekking. Extremely strong and stable stand. Powerful light set.
Sizes: : S = 1.60m – 1.72m ; M = 1.70m – 1.84m ; L = 1.82m – 1.95m.
Frame: 6061 aluminium. : lightweight, solid and easy-to-handle frame.
Fork: SUNTOUR suspension fork with adjustable spring preload and remote lock-out. : suspension fork to dampen vibration and absorb shock. Remote lock-out for optimum efficiency on tarmac roads.
Drivetrain: Shimano 27-speed drivetrain. Shimano DEORE shifters. DEORE Hollowtech cranks. Shimano XT Shadow rear derailleur. Shimano DEORE front derailleur. : the gearing enables you to tackle all gradients of slope. The drivetain ensures smooth gear changes.
Position: oversize flat aluminium handlebars. Adjustable aluminium aheadset stem. Royal Freccia gel saddle. Aluminium seatpost. Ergon grips and bar ends. : the riding position has been designed to combine control and efficiency. Comkfortable saddle. The stem is adjustable for better positioning on the bike. Grips and bar ends optimise handlebar ergonomics.
Wheels: double-wall anodised aluminium Rigida ZAC 79 rims. 36 galvanised steel spokes. Shimano DEORE aluminium rear hub. Shimano front dynamo hub. Schwalbe Marathon Plus trekking tyres. : double-wall aluminium rims for increased strength. Shwalbe Marathon tyres for efficiency and durability.
The technical details above are for the European version of the bike (BTwin Riverside 7) and not the version I purchased from the local Decathlon shop here (BTwin Triban Trail 7).  The details for my bicycle are slightly different:  My brakes are just the normal V-pull which I actually prefer over the hydraulic ones and come with Tektro brake levers.  The main reason I prefer them is that they are easier to fix — or will be in Nepal and India.  We'll be cycling a long distance away from the mountain bike shops in Kathmandu and other big Indian cities.  As of my posting this article, there is only one Decathlon store in India — in Bangalore where we won't be going but it is close enough to Tamil Nadu that we could get there in a pinch.  Also, the drive train parts on my bicycle are SRam (X4 rear derailleur/shifters), not Shimano, and my tires are from Decathlon, not Shwalbe.  I will change them to Michelin tires before I leave China.  Only time will tell if the drive train from SRam is as durable as Shimano's (I've read online that aluminum parts of these deraillerus can be broken by stricks — so I'll just to be careful not to ride over any branches from trees on the road or paths).  The rest of the details are fairly accurate.  Here is a close-up of my bicycle as I have it loaded for the trip.  You should notice that the frame geometry is also slightly different.  It is not the straight frame pictured above.  The frame curves and the bottom tubes above the crank and pedals are a conveniently higher distance than usual.  It is a hybrid bike so the wheels and tires are narrower than a typical mountain bicycle's are yet wider than a road racing bicycle's.  I also put on a broader and more padded seat for that bigger, older and more tired bottom I have equipped on my own body.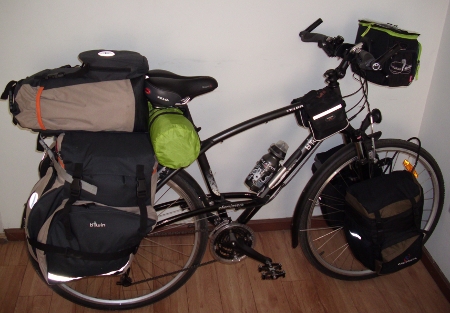 I have gone ahead and purchased panniers made by BTwin as well.  The front ones are quite generic, made in China, and for Merida.  Again, only time will tell how durable they are.  The Riverside 7 model listed on the BTwin website is marked at about 600 pounds sterling — I only paid 3000 yuan for my Triban Trail 7, quite a bit more economical at half the price of the European model.  I replaced the original pedals with stronger metal ones and have had my first puncture of the rear tire's tube — on the way to the local McDonald's, believe it or not.  The stem of the tube broke where it joins the inner tube so I've purchased a supply of replacements.  I will also purchase replacement tires and even a stronger set of rims.  I feel it is better to be safe than sorry considering that there aren't many 28″ wheels for sale in Nepal or India.  Here is a view of the bicycle loaded from the rear.
As for gear, I'm trying to travel light without any kitchen supplies and will try to eat at local roadside restaurants and hope I'm invited often for home-cooked meals with families I meet along the way.  My computer bag takes up enough weight on its own to be a burden if I carry it often enough.  Most of the space in my rear panniers is taken up by two large sleeping bags but they are about the same weight as 3 individual bags would be.  They zip together and can furnish a bed for three.  They're just bulky as they can't be compressed but so much.  My tent is also set to host three — I don't know yet who will join me for the ride but since my companions will get to help me carry things I'll buy additional bicycles for them as we meet during the trip.  So, all in all, the load is much lighter than it appears to be.
I have already found one problem with the bicycle's front light — the wires that power the rear light broke away from their connections to the front light.  They were too short and pulled away when the front wheel was turned too far.  I figure I can always resolder them onto the front light after lengthening the wires or even hook them up to a 6-volt set of batteries that I can attach on the frame near the crank.  It's not much of a problem to report on.  The rest of the bike seems strong enough for the trip — after all, 4 months and 6,000 kilometers is a lot shorter than the rides of cyclists who are travelling around the whole world.
I haven't been able to find many reviews of BTwin bicycles on the internet.  My bicycle is not the traditional hand-made bicycle that a lot of tourers opt for and I have chosen it for that exact reason.  My travelling companions in Nepal and India are not going to have the funds to purchase a hand-made bicycle either and I don't want to impress anyone with the cost of my bicycle.  If it functions for the duration of the ride and holds up to our slow pace of around 50 kilometers a day on mostly good surfaced roads and country lanes I will be more than satisfied.  I am also happy to see the Decathlon shops spreading from China to India.  I like the shop, their goods, and their prices.  If you can find a review of the bicycle I've chosen here, please send it to me.
This bicycle is a lot nicer than the one that kept me going for 2 years across the rice paddies of western Thailand.  The XRam shifters on that bike didn't survive my many 'runs' on the bicycle that ended up with me diving the bike into irrigation ponds.  I figure I can count on the BTwin's durability for at least a couple of years.  As for that first ever puncture on my new bike (after having the first two BTwin's I purchased stolen) I can only say I must have jinxed myself by showing this video to my kindergarten students.  They were studying 'transport' and bicycle was one of their new vocabulary words.  I showed them this video (thanks Katya and Mirko) to introduce them to the idea of bicycle trekking — somewhere there must have been a 'joker' or two looking on from the sidelines of the universe.
Dhane Blue, Christmas Eve 2010
Filed under: Bicycles and