Posted on April 22nd, 2010 by Dhane Blue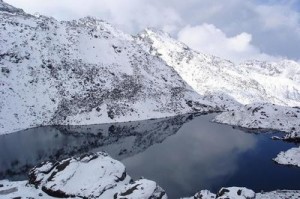 I first arrived in Kathmandu in 1989 from India. Beginning in 1988 I had started my M.A. studies and for the next few years I spent half of each year in India and half in Nepal. I had no idea at the time that I would stay in Nepal from when I graduated in 1991 until I finally left it in 1998 with a Nepalese wife on a journey back to the U.S.A. During those long years the memory that most stands out is of trekking to Gosainkund with about half a dozen of my Nepalese students. At the time, I worked in a boarding school in Kathmandu — it was in 1992.
It was a long 10-day trek that had us climb to 15,000 feet over a few days after the ride north from Kathmandu to the opening of the Langtang Valley. This valley leads up to passes that open into Tibet. I also went there but that is another story. Gosainkund is the name of a small lake that remains frozen over for probably eight months of the year. So, it is only natural that pilgrims choose this place to hike to each summer and have a ritual bath in the 'cold' (oh, so cold!) waters of the lake. One look is enough to give you an idea of the chilling embrace of the water.
We trekked there in May and carried tents, food, and cooking stoves and equipment — enough for eight people for about a week. This was the toughest trek I ever undertook on my own or with anyone. My companions were young boys — students ranging in age from 11-13 so they were not exactly rugged porters. I was much younger then — around forty years old — and it was no easy haul climbing slowly and acclimating to the altitude. We finally reached Gosainkund after three days and spent a very cold night perched on the mountainside — snow blowing around and in our tent. We slid down snow-covered slopes the next day before we began the week-long trek back to Kathmandu. As the saying goes, it was 'downhill' from there. But, in Nepal, 'downhill' is extremely relative. It's more like a long roller coaster ride with non-stop ups and downs through the region north of Kathmandu known as Helambu that gradually leads back down to the valley of Nepal's capital.  It's nice trekking with Nepalese youngsters who ensured that we were well fed on the trip back. We had long since finished the meager rations we thought would last us a week and my cooking chores were finally over. Now, we stopped in remote villages and ate with various families who invited us in for meals. Having a 'troop' of Nepalese students along helps out in meeting the locals.
The trip was memorable — ten days in heaven — that I will remember all of my life. I may never return to Nepal but hope to have many more similar treks in other countries before I'm too old.  To be bounding up and down trails that sometimes lead to the edges of cliffs dropping straight down or ridge lines leading to the next village through this or that short cut make life more interesting. This trek was not one that followed the recommendations of a guide book nor a map. We had neither. We went from village to village, following the directions of locals who steered us way off the beaten track.
I remember walking in shorts, a t-shirt, and flip-flops — covered with a piece of plastic — through rain that never seemed to stop all day. The path became a stream that cooled our feet but make walking a slippery undertaking. In addition, there were leeches that dropped from trees onto our legs and feet. We had to stop to remove these regularly. By the end of the day, we welcomed being warmed around the typical kitchen of a Nepalese village home. Most of these homes were constructed of stones and stout timbers. Cooking is done in a large wood-burning stove that warms the whole house. We were able to dry our clothes overnight and were ready to continue the next morning — warmed and refreshed.
The trip was finally over but I took many more with this same group of children. Many of them undertake trips such as this to their own home villages each fall season. School is usually closed for a month long holiday then to celebrate. Everyone who is usually away at boarding school in Kathmandu chooses this time of the year to return home. Many of my students went home to simple houses perched on mountainside villages. Yes, the scenery is beautiful but most of these places are not easy to eke out a living in. Life is hard and involves a lot of manual labor for the whole family. Remember that most of these places have shops but everything there is brought in on the back of a porter who may have walked for a week to get there. The isolation from the civilized world (so-called civilized) is what makes it heaven.
The Gosainkund trip was also memorable for what occurred soon after. In July of that year, a Thai airbus flight from Bangkok missed its approach to Kathmandu. The pilot had experienced trouble extending the aircraft's flaps for landing. He followed the procedure for a missed approach, flying to the north and turning to come back to Kathmandu. Gosainkund is less than 100 kilometers north of Kathmandu as the crow, or airplane, flies. Having turned around, the pilot ignored a 'close proximity' alarm. He flew into the mountainside of Gosainkund and ended his life with that of all the crew and passengers. This was memorable because there were three Airbus flights that crashed the same year. This particular flight was sad because it claimed the life of an American friend I had met in my Nepalese language class. His Japanese wife and two adorable children also perished. I had bought his wife's mountain bike and only learned of the sad news when I visited his house and met mourning relatives. Perhaps, Tom's soul and his family's as well, rest peacefully in the heaven I trekked through. Synchronicity is a strange experience and one that can never be explained in terms we mortals understand.
Just a month later, the incident repeated itself on the other side of Kathmandu. It was a year I will never forget. From the New York Times article of September 29th, 1992:
A Pakistani jet plowed into a pine-covered hillside today, and rescuers searching the burning wreckage reported no survivors among the 167 aboard. Among the 155 passengers were 89 Europeans, 10 Nepalese, 2 Bangladeshis and 12 Pakistanis, airline officials said in Karachi, Pakistan.
Officials said one American was also on board the Pakistani International Airlines Airbus A300 when it crashed on an approach, the second disaster near the capital in two months.
The pilot had given no indication anything was wrong before contact was lost with the plane, and the weather was normal, officials said.
Airline officials in Pakistan said the plane may have been flying too low as it approached this city ringed by mountains. The officials, who asked not to be identified, said the plane was flying at 7,500 feet when it should have been at 9,000.
A Thai Airbus crashed into a snowy peak near the capital in July, killing all 113 people aboard.
The Pakistani jet, on a flight from Karachi, crashed 14 miles south of Kathmandu's airport, said Nagendra Prasad Ghimire, deputy chief of Kathmandu airport. Rescue crews that reached the site by helicopter said the plane was on fire.
An airman lowered himself on a rope for a closer view, but found no evidence of survivors, Mr. Ghimire said.
Thirty-five Britons, including a missionary family with three children, were among the passengers, the Pakistani airline reported in London. Most of the other Britons were headed for climbing vacations in the Himalayas, the airline said.
The missionaries were identified by the college where they trained as Andrew Wilkins, 38 years old, and his pregnant wife, Helen, 36. They were traveling with their children, Hannah, 10; Naomi, 8, and Simeon, 6, the college, All Nations Christian College in Ware, England, reported.
Aside from the missionary family, none of the names of those aboard were made public.
A Thai Airways jetliner, an Airbus A310-300, crashed into an 11,500-foot mountain north of the airport on July 31 after it overshot the runway on a landing approach. Eleven Americans were among the 113 killed.
The cause of that crash is still being investigated. But the manufacturer, Airbus Industrie, a French-based European consortium, said in Paris today that an Airbus team that had investigated found no mechanical fault and was focusing on human error.
A Canadian investigation team said last month that the pilot had struggled with faulty wing flaps minutes before the crash. I will always wonder about the three Airbus crashes that year — were they pilot error or something else? It was a strange fore-shadowing of another day we'll all remember — 9-11. Maybe it helped me prepare myself for that day.  Other strange days and Airbus crashes have happened just this year, 2009 — one on the way from Brazil to France and another on the way from Africa to France.  At least there was one survivor from these two crashes and she mentioned being 'shocked' with electricity while on board the plane.  Another mystery to be added to the 'flights' category — maybe we will understand these events at some point in the future.  For now, they just help me make up my mind to travel by bus and train for a safer trip.
September 2009
Chengdu, China
Filed under: Nepal and