Posted on April 22nd, 2010 by Dhane Blue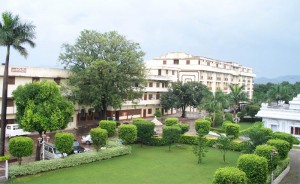 I remember well the year my father died around 20 years ago. I was studying in India and staying at the Prem Nagar Ashram in Haridwar, U.P. (north India). I was out of touch with my family so a letter from my mother informing me of his death didn't arrive until a month after he had been buried. I am still surprised at how calmly I dealt with it at the time. I suppose I knew all too well that 'death' is not the end of experience. It is just a door to the next one we get to have. There had just been a cremation at the ashram and I had witnessed several up close and personal deaths of friends in a south Indian village. I finally learned how to deal with it from the Indian youth who befriended me in that village. Death held no great surprises or mystery for me. I am surprised by people's antics to avoid dealing with this experience. Some of us even erect a 'cult' around it (in worship of it?) as though any one of us can avoid it by practicing a ritual. I guess most people are stupid enough to fall into the delusion that we need to 'obsess' about anything. It's like riding a roller coaster and trying to stop it at the top of that highest point before it goes on — in delay of the end of the ride (not that 'death' IS the end of the ride). I don't know.  Many people compare a sexual orgasm to death — even calling it 'the little death'. I believe there is more satisfying experience to be had than obsessing on that little 'male appendage'! The way my father died could make me superstitious, I suppose. My grandfather died from a hit and run driver while out for a walk. My father died while on duty as a paramedic in his community's ambulance service. I don't want to be the third generation that dies in a similar fashion so I don't drive anymore and ride bicycles. This is no guarantee of survival but we miss too much of life when we go too fast. I finally visited the graves of my father and grandfather — but not until at least 10 years after they were buried not far from Thomas Jefferson's grave. That's not bad company — may they rest in peace upon the hill of Monticello just above Charlottesville, Virginia.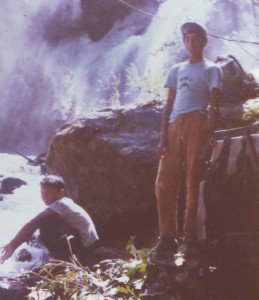 This trip began the year after my father's death and was a result of my own relationship with a Nepalese family that had also lost its father. When I first settled in Nepal and was staying at another ashram, I asked the people there to put me in touch with any needy family they knew about. I was directed to help one family with five children. It was a good time to help others. My father's insurance money had been released and my share of it was used to help this family for a year. I made several trips to India but this story is about the one I made together with Upendra (the middle born son of four) to visit the village, T. Andipatti, in southern India where I had studied for my B.A. I thought we could visit the southernmost tip of India and also the beach at the village of a Tamil friend. We also managed side trips to Calcutta (visiting another ashram) and Puttaparti in Andra Pradesh (visiting Sai Baba's ashram) with my school's Indian center director. We stopped in Bangalore on the way, spent some time in Patna, Bihar and finally returned to Nepal across the Bihar-Nepalese border.
I had spent a lot of time with Upendra. His older brother went with me on the first trip to India up to the Valley of Flowers called Hemkhund. He wasn't able to go to the top, though. The heights gave him nose bleeds and I only spent one night at 15,000 feet before coming back down. Upendra and I later trekked to Gosainkund (that story here) and also through Langtang Valley up to the border with Tibet. But, this was Upendra's first trip with me — he was around ten years old then and is a young man now. He spends his time sculpting statues of Hindu gods and the Buddha, for sale in Kathmandu. His younger brother, Rajendra, was one of my best students and now directs his own N.G.O. (online here). I remember a lot of treks from Nepal — after all, I lived there for 9 years. This was Upendra's first and only trip away from home and he was very excited after listening to the stories of his brother. Of course, there is no train from Kathmandu. Perhaps, there will be one day but travelers must either fly in to the capital or travel by bus to the Indian border.
I don't remember where we crossed the border on the way south but I do remember the return crossing in Bihar. We would have had to catch a train somewhere. But, we did travel to Rajgir in Bihar. We visited a local nature cure center where I had earlier studied and took a ride on the local cable car that overlooks the surrounding hills. Pilgrims go to Rajgir — mostly Buddhists and Hindus, and most of the Buddhists are Japanese. Upendra and I walked to a small hotel for Japanese tourists. Of course, it had a private bath house attached. Indian pilgrims went to local springs for their holy baths before visiting the temple.
From Rajgir, we would have had to take a bus to the nearest town with trains heading for the south. I don't think we went through New Delhi but our next stop would have been Bangalore where I wanted to visit with my friend, the director of my school's Indian center. From there, we traveled to Andra Pradesh and visited the ashram of Sai Baba. This was my second trip there and my first with Upendra. Sai Bab's ashram is also an educational institution for teachers. So, you could think of him as a teacher's guru. Many words about him have been written but you have to make your own visit for your own experience. Back in Kathmandu, when I worked at a local Nepalese boarding school, I was surrounded by a family of devotees — some of Sai Baba, some of my guru, some of his brother. It helps make a strong sense of family. If any one place in Asia is close to being the 'Heart of Asia' I could nominate Kathmandu — at least some of the time. It may be that this 'heart' moves around a lot depending on where one's attention to devotion to the truth wanders. That has been my experience, anyway. Sai Baba, though, remains centered in one place and doesn't travel much. I find I can't do that — it doesn't work for me but I respect his ability to stay in one place and teach those who visit him for that. That is not my guru's path. He travels around the world at the invitation of his students and flies his own jet. A lot of his messages are nowadays delivered via the television. I am not sure the use of technology to teach a spiritual lesson is going to remain the way to go much longer. The truth is that each one of us finds our best teacher in our own way — it can be whatever you want to identify it as. You just have to remember that the ONLY source of this experience is YOU — the experiencer. Don't get lost in external illusions!
From Bangalore, we went south. We stopped at my old home in the village and went on to Madurai — temple hopping, so to speak. A side trip to Nagercoil from there led us to the beach where we spent a lot of time in the water. There is much people write about being by the sea. One either worships the waves or not. I would like to make my home living on the sea if it were possible. I have even looked at jobs teaching on cruise ships. Too much hedonism in that, though, and what would I learn from the experience? So, I keep returning to lonelier places — I'm retreating from the world. I hunger for an inner solitude that is not polluted by the whirlwind of wordly events. Why let yourself get caught up in all the garbage that gets swirled around (to understand what I mean, read this article). I remember telling my students about the islands of plastic garbage that spread across the Pacific Ocean. It didn't stop them, though, from littering our school grounds with the plastic containers of the junk food they're still attached to. The best vegetarian food I ever ate was at Sai Baba's ashram. When I return to Chengdu in 2009, the second best food I've ever eaten, cooked by Buddhist nuns, waits for me in a temple there. I look forward to eating there again. Just now, I am fasting and don't want to think about food too much.
Kanyukamari is the southernmost town in India. It is on the tip of the country and not far from Sri Lanka. A small island with a temple devoted to Vivekananda sits there.  I haven't had a better experience of the power of that experience of inner solitude that I mentioned above than in a single chamber of this temple. It is called a meditation room. The visitor may stay there a few moments alone and feel an energy that is truly 'spiritual'. I'd like to live within that space but the pull of the world is like a giant whirlpool in the ocean just outside the temple doors. It is time for people to start realizing the temple I am speaking of is the human body itself. Too many of us are living lifestyles that pollute that temple. It's hard to imagine the 'disrespect' for our natural being in all that modern culture would have us do. Maybe, it is time for someone to pull the plug on that whirlpool and let all the garbage drain out of the ocean's basin — or at least, that is one way of visualizing it.
Dhane, January 7, 2009
Filed under: India and