Posted on April 22nd, 2010 by Dhane Blue
I arrived in India during the first half of 1985 after completing a semester of studies in Jerusalem, Israel. I first attended a month-long orientation after meeting my school's center director and the one other student who was in India at the time. We made a small group that traveled around while I decided where my actual studies would take place. After meeting the director of a local ngo in Bangalore, Karnataka state, we agreed I would be placed in a student internship in a project located in a small south India village called T. Andipatti — about an hour's bus ride north of the temple town of Madurai. Tamil Nadu was to be my home for the next two years except for one semester spent in Bangkok, Thailand. Tamil Nadu is, of course, the southernmost state of India and borders on the Indian Ocean. It is famous for the town of Kanyakumari at the very bottom of the country and just across the ocean from Sri Lanka. Madurai District, though, is landlocked and further north. It is an area of small villages and fewer towns — surrounded by rice fields, dusty roads, irrigation wells and canals, and the one main north-south highway that ran alongside the village. I was placed in a little house in the middle of the village and basically left to fend for myself. The project sponsored a small clinic in the village and a lot of my studies included simple observations of what happened there. It was my introduction to the primary health care system of a third world country. I also absorbed a lot of Indian village culture and spent many days walking across rice fields and jumping in wells to cool off from the blistering heat. Monsoon and winter are bearable but the rest of the year most people retreat indoors for a mid-day siesta similar to what is done in Mexico.
Not much happened at the clinic on a daily basis. I remember the highlight of my several years spent there as the 'stitching' of a small wound on someone's hand and injections. Children are rightfully afraid of needles — we probably all are. During our school orientation, we had also visited a traditional 'bone-knitter's' hospital where people's broken limbs were treated with herbal plasters. I was amazed at the doctors' ability there to set a fracture without x-rays and the patients' fortitude in handling their manipulations without crying out. Where most Westerners would have been crying out in pain, the stoic faces of the kids with broken bones reminded me of my own childhood bicycle accident at the age of 14 when I dislocated my left elbow. My arm still carries a long scar — evidence of the surgeon's attention at the time. I can't help but think about the situation in Gaza now (Dec. 2008). Many Palestinian children who throw stones at Israel soldiers have their limbs — arms — broken purposely in a brutal fashion meant to intimidate them into not protesting their genocidal slaughter. While in Tamil Nadu, a Tamil freedom fighter (a woman) and suicide bomber at that, blew herself and Rajiv Gandhi to pieces one day. The Palestinians don't lack that same fighting spirit but the world seems content to accept the 'running sideshow' of slaughter ongoing there daily. Someone needs to give them a weapon to defend themselves with. I don't have a 'backpack nuke' or the money to buy one but I wouldn't deny the Palestinians the right to take a few of their enemies with them if they have to die. Everyone is too afraid to criticize the Israelis. Why — I don't know. I certainly got a good, close look at them during my six month stay in Jerusalem. My school orientation there also included meetings with Palestinians. I understand their plight only too well. The Israelis are no 'spartan heroes' — just a bunch of scared kids running around with guns at the beck and call of their army superiors (mad men masked with religious mind-controlled smiles). Enough of that — said and done!
I befriended many youth in the village of T. Andipatti. It was a welcome change of scene from Israel. I taught the local kids how to play softball instead of cricket. We played on a dusty, village field and had a good time. We went on a lot of bicycle rides on those old, antique Indian bicycles with brakes that worked half the time. We swam in the irrigation wells and canals. The kids helped me locate herbal plants to grow in my little garden beside the house where I stayed. I remember the day an Indian policeman (equivalent to an American F.B.I. agent) visited me to check me out. I showed him my garden and the little hut I had moved into at the time. He could see I was a genuine student. My project's house had a little kindergarten attached — where I explored the beginning of my teaching career. I picked up my Tamil as I taught the younger children English. I traveled the state of Tamil Nadu from north to south and spent time in the cooler mountains. I visited a Tamil refugee village in the hills — Tamils who had escaped Sri Lanka with the help of the Catholic church.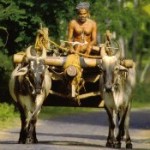 We went to the beach in Kerala, camped out in the hills, wandered the network of villages surrounding T. Andipatti, and generally had a very happy life. I often wish I were back there now — in a gentler time and a gentler world. Or, at least, I was unaware of the more violent outer world while I was living there. One particular young boy I befriended was the son of a local banana farmer. His father also kept a couple of prize animals — bullocks that he raced. Bullock cart racing is very popular in India. It reminds me of the chariots that Romans used to race. But, these were on village roads with people running alongside the bullocks, prodding them into faster and faster performances. While in Thailand and living in villages there, the local farmers kept the same bullocks — except in Thailand the bullock is not the holy animal it is in India. I remember raw meat being served at a Thai wedding I attended — not so in India. I didn't eat much meat while in Tamil Nadu.
I often took the bus from T. Andipatti into the nearest town — Madurai — and visited the large, stone temples there. I was even able to climb up into one and look down on the temple courtyard from the top. The local market was situated on the ground floor of the temple — in a big open area. Why not go to the temple and go shopping as well? No other place I've been can compete with India for the smells and sounds of the local environment. Madurai doesn't have much more to offer than its temples but those are a grand sight. From Madurai, I would also make trips to a village near the town of Nagercoil — further south. This was the village of a friend who worked for the project in T. Andipatti. He invited me to his village on the beach on several occasions.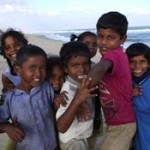 Nothing competes with his mother's fish curry made with fresh coconut milk nor the breezes coming off the sea as I slept in a little tent on the beach. A large Catholic church was also built on the beach and it was a strange visit. I spent the day playing in the ocean with local kids, listening to the Christian devotees singing Indian hymns in the church, and later that night, a small Indian traveling circus entertained us on the same beach.
It was a strange day and a memory that will always remain in my mind. I couldn't think of too many better places to spend the rest of my life. However, this memory is now influenced by scenes I've seen of the tsunami of December 2004 — that caused waves to also wash ashore on the beaches of Tamil Nadu. This village was on the backside of Tamil Nadu so it may have escaped some of the worst damage. It might be worth a return visit someday. I will always remember the local children the best. They and their warmth of heart-to-heart friendship made my stay and studies more interesting. From the day I watched a local poor villager roasting a rat to eat to the day I spent at the beach body-surfing the gentler waves, all of those memories coalesce into one big dream of a time when the world was a kinder place. I also remember watching an HBO movie presentation about the tsunami and its effects upon Thailand. So many beautiful children died in both countries. Others died when the cyclone marched ashore in Burma last year (2008) in May. One who was lost there used to live with me at my shelter. He had gone home with his uncle to visit his grandfather's grave and he hasn't been seen since. We can only live one day at a time in the modern world — it becomes a little scarier everyday. I am inspired by my memories of the children, though. They know how to live happily from moment to moment. It is a lesson we as adults all need to learn from them.
Dhane Blue
May 2008
Filed under: India and